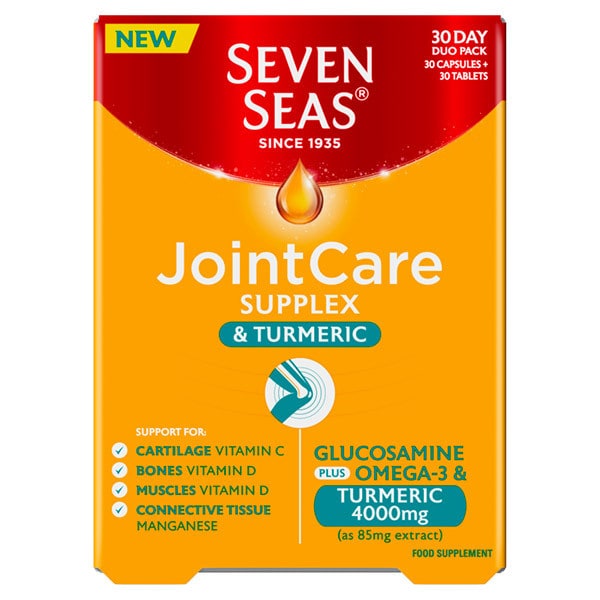 We took an in-depth look at one of the UK's most popular joint supplements: Seven Seas Joint Care Supplex and Turmeric.
Turmeric is known as a "miracle" natural ingredient for health and wellness. Although it is better known as a flavourful yellow cooking spice, it also has numerous health benefits when taken on a daily basis.
In recent years, scientists and doctors have conducted many studies to see if there is any merit to using turmeric curcumin as a natural health remedy. They discovered that the curcumin found in turmeric is indeed an effective natural treatment for numerous health conditions.
Taking a daily dose of turmeric curcumin can help to prevent heart disease, alleviate joint pain, reduce inflammation, enhance the body's antioxidant function, improve immunity, and more.
With its many wellness benefits, turmeric curcumin has quickly become one of the most sought-after natural health supplements on the market today. Among these, one of Britain's most popular choices is Seven Seas Joint Care Supplex and Turmeric.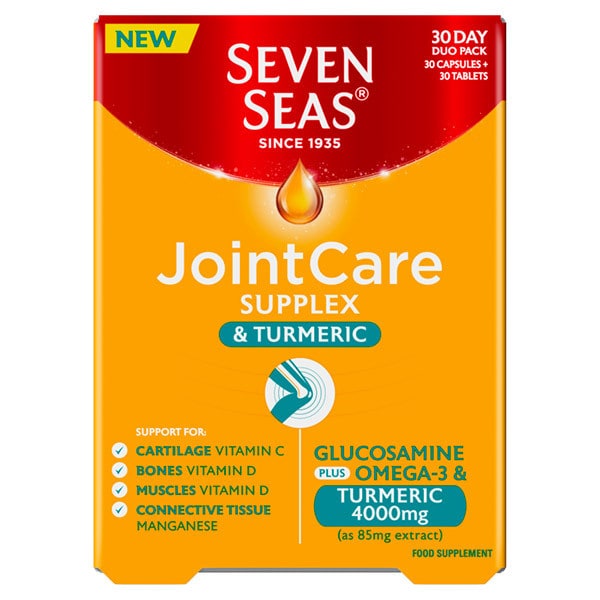 The Company
Seven Seas is one of the UK's biggest providers of health supplements. The brand sits under the multi-brand conglomerate Proctor & Gamble, which contributes to its strong reputation and widespread availability across British retailers.
When researching various turmeric and joint pain products, we noticed that Seven Seas Joint Care Supplex and Turmeric was consistently rated highly on most online retail websites. It's widely available in stores and on the high street in pharmacies and wellness shops, including Boots, Superdrug and Holland and Barrett.
There's no doubt that the brand is trusted by consumers and they have created a unique turmeric product. Given its popularity, we have conducted an in-depth review of the product to see for ourselves if it really does measure up to the hype.
Below we will analyse Seven Seas Joint Care Supplex and Turmeric's formula, product guarantee, value for money, effectiveness and customer satisfaction.
Formula & Ingredients
What makes Seven Seas' turmeric product unique is that it contains many beneficial ingredients. Their formula not only contains ingredients that aid with joint pain but also with immune, heart and bone health. Not to mention, their capsules are all free from artificial colours, flavours and preservatives.
Seven Seas JointCare Supplex & Turmeric main ingredients:
Vitamin C contributes to normal collagen formation for the normal function of bones and cartilage
Vitamin D to help maintain normal bones
Vitamin C to support the normal function of the immune system
Manganese contributes to the normal formation of connective tissue
85 mg Turmeric extract to promote joint health
240 mg Glucosamine Sulphate 2KCI to promote joint health
178 mg Omega-3 nutrients to support heart health
Because the capsules include Omega-3, they are not suitable for vegetarians, vegans, or those with a fish or shellfish allergy.
Effectiveness
One of the downfalls of Seven Seas' supplement is in the potency of their formula.
Despite its strong list of ingredients, Seven Seas' formula could be improved in a few areas. Firstly, the capsules do not contain any black pepper or BioPerine, which is an essential ingredient to ensure maximum absorption. Studies have shown that perine, a compound found in black pepper, is a key ingredient that helps the body to absorb curcumin into the bloodstream. In fact, combining black pepper with turmeric curcumin enhances absorption of curcumin by up to 2,000%.
Seven Seas' product has many great ingredients, but they should have included black pepper or BioPerine in their formula to ensure their customers feel the full benefits of the curcumin.
Secondly, the tablets only consist of 85mg of turmeric extract, which is essentially potent curcumin. While this is better than simply buying an organic turmeric product, the amount of turmeric extract used is minimal compared to other turmeric and joint products. This means that it is not as potent as many competing supplements on the market.
Customer Satisfaction
Reviews are a great way to get a general idea of a product's quality, the customer service a brand provides and any potential issues other customers have had with their purchase.
Most of the websites we consulted show that Seven Seas' turmeric supplement is rated very highly among their customers:
Superdrug: Reviewed 433 times and has a rating of 4.1.
Amazon: Reviewed 419 times and has an average rating of 4.5.
Boots: Reviewed 488 times and has an overall rating of 4.1.
Most of their customers reported that they were satisfied with the quality of their supplement and felt results after using it consistently for a few weeks. Some claimed that they were able to resume normal activities without any joint, like climbing flights of stairs, without any pain. Others even said they purchased Seven Seas' joint supplement based on recommendations from their healthcare teams.
Although you should always consult online reviews before making a purchase online, it's also important to do your own independent research. The reason for this is because, unfortunately, you can't always trust those five-star reviews you see on the internet, particularly on Amazon, eBay, and other large online marketplaces.
Product/Brand Guarantee
Based on our research, it appears that Seven Seas does not provide any kind of guarantee for their products. There is no money-back guarantee available on purchases, which means you cannot return your product if you are dissatisfied with the quality of it.
Pricing & Value
At £18.99 per box, Seven Seas Joint Care Supplex and Turmeric provides a good product for an affordable price. Compared to other turmeric supplements, it is certainly not the cheapest option. However, based on the positive reviews from their customers and list of ingredients, it may be worth the higher price tag. Although, you may want to consider buying a BioPerine or black pepper supplement in addition to Seven Seas joint health supplements in order to make sure your body is properly absorbing the curcumin in the tablets.
Each box is a "duo pack" that includes 30 capsules and 30 tablets, for a combined 60 supplements. They advise customers to take one capsule and one tablet daily, which means their duo-pack will provide you with roughly one month's supply.
The Bottom Line
As one of the most reputable and popular supplement brands in Britain, we expected Seven Seas' joint pain and turmeric supplement to be exceptional.
Seven Seas advertises their supplement as a bit of a "do-all" and miracle product, and their ingredients are indeed helpful remedies for many ailments. Yet, the potency and dosage of key ingredients that we would expect to see in a great joint pain supplement , namely turmeric extract and black pepper/BioPerine, are lacking or missing from the ingredients list.
After carefully researching the ingredients they use, the potency of them and its value for money, we feel that there are likely better joint pain products out there for the price.
To learn more about the best turmeric supplements, check out our Top Picks of 2020!
Citations:
https://www.boots.com/seven-seas-jointcare-supplex-turmeric-10253908
https://pubmed.ncbi.nlm.nih.gov/9619120/
https://www.healthline.com/nutrition/turmeric-and-black-pepper